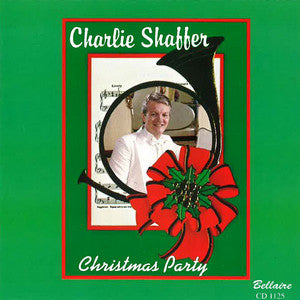 Charlie Shaffer - Christmas Party
Christmas Special .... For a limited time, now only $9.99
ULTIMATE CHRISTMAS PARTY CD

Need a Christmas gift idea? How about some background music for your Christmas or holiday party? Look no further! Glad Music is happy to announce a $9.99 CD Special for acclaimed pianist Charlie Shaffer's Christmas music CD. In addition to Charlies' great collection of instrumental piano CD's, Charlie brings back again to his fans, "Christmas Party", a collection of the ultimate favorite Christmas and Holiday songs:

Santa Claus Is Coming To Town * Winter Wonderland * Blue Christmas * Home For The Holidays * Silver Bells * Frosty The Snowman * Christmas Song * White Christmas * Rudolf The Red Nosed Reindeer * I'll Be Home For Christmas * Let It Snow * Have Yourself A Merry Little Christmas.
------------------------------------------------------------
During the first (and only) year at college, Charlie Shaffer played at some of the private clubs around Houston, but when summer came he relocated to Las Vegas, supposedly temporarily. He performed continuously (except for two years military service) at virtually every hotel there, plus Liberace's "Tivoli Gardens". He appeared in a Warner Bros. movie, on the Saturday night Dick Clark TV Show, and other network shows. Some award winning Las Vegas hotel commercials were composed by Charlie. He has also written orchestral arrangements for performance on the TV shows of Johnny Carson, Merv Griffin, Sammy Davis Jr, and Joey Bishop. As rehearsal pianist for the Jackie Gleason Las Vegas TV Show he worked daily with June Taylor, Ben Vereen, Lola Folana and others, creating dance sequences and musical arrangements. He has accompanied Peggy Lee, Debbie Reynolds, Dean Martin, Steve Lawrence, Don Cherry, Robert Goulet, Joe Williams, and others.